USB-RS232 Converter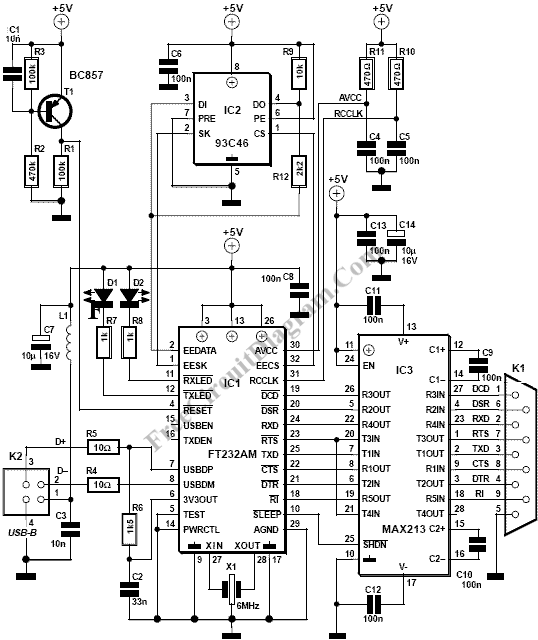 Many new computers now only has USB port, and this serial to USB adapter might be the only help for old devices that provides only RS232/COM Port. This serial adapter uses FT232 USB-RS232  converter IC from FTDI (Future Technology Devices International).  The main features of this USB serial adapter chip are:
384 byte receive buffer / 128 byte transmit buffer for high data throughput
Full hardware assisted or X-On/X-Off handshaking
RS232 link from 300 baud to 920K baud
Single Chip Multi-Function Data Transfer Solution
RS422/RS485 Link to 2000K baud
Support for Event Characters and Line Break condition
Auto Transmit Buffer control for RS485
Integrated 3.3v Regulator – No External Regulator Required
4.4v .. 5.25v Single Supply Operation
UHCI / OHCI Compliant
Compact 32 pin  ( 7mm x 7mm ) MQFP package
Integrated 6MHz – 48MHz Clock Multiplier aids  FCC and CE compliance
USB 1.1 Specification Compliant
USB VID, PID, Serial Number and Product Description Strings in external E2PROM.
Many application can be built based on FT232 chip, for example: USB Instrumentation; USB-USB data transfer cables; USB-PDA Interface Cables; USB- RS232 Converters / Cables; USB-RS422 / RS485 High Speed Industrial Links; USB Digital Cameras; USB-USB  null-modem cables; USB-Serial Bar Code Readers;  USB ISDN and ADSL Modems; USB-56k / V90 Modems; USB I/F for MP3 players; Ultra-high performance Serial Port for legacy -free PC system boards / Easy PC's;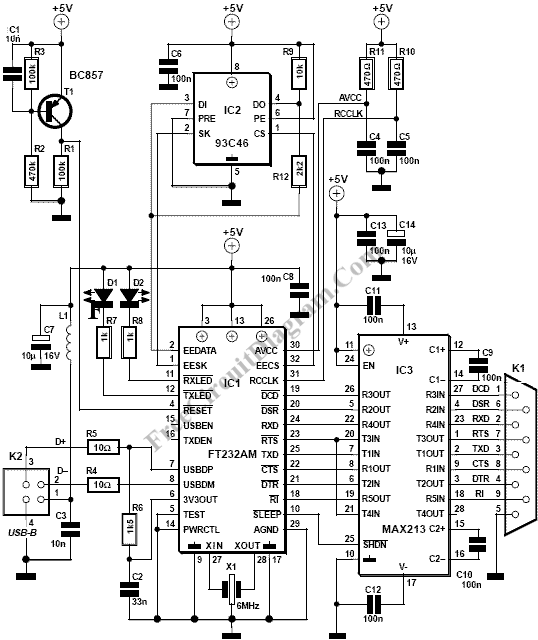 The circuit is very simple, need only few components to complete a working converter. More information about datasheet and application notes can be obtained in FTDI website (www.ftdichip.com).