Digital Isolation and Termination
This is a digital isolation and termination circuit. This circuit uses The CLT3-4 that is a digital termination device with quadruple input. The CLT3-4 is designed for 24 V DC automation applications. The CLT3-4 drives an isolating opto-coupler and gives the front-end circuitry of a digital input module (I/O) in industrial automation. Here is the circuit: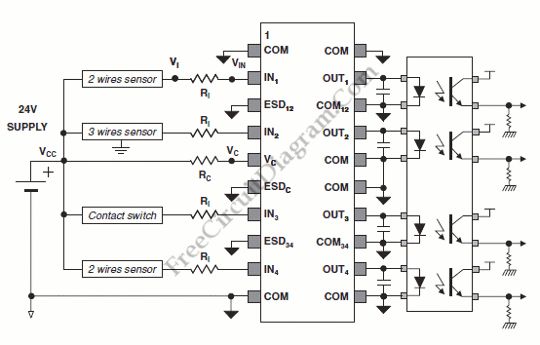 This circuit has a four channels configuration. It provides a high-density termination by minimizing the external components count. To reduce the printed board size this circuit is housed in a TSSOP20 surface mount package.
This circuit has a serial current limiting circuit, an opto-coupler driver and an input voltage protection. The connection between the logic input and the associated switch or high side sensor is terminated. [Source: STMicroelectronics Application Note]